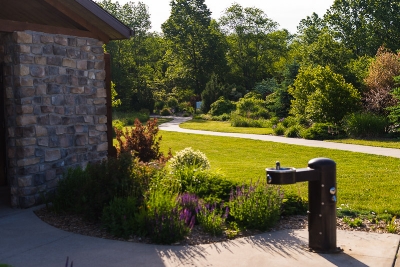 Cobus Creek Park (Elkhart)
Just an amazing little park! Great trails, beautiful fall trees and foliage, small bridges and lots of open spaces. This is a prime location in October to capture engagement pics or family portraits. If you have a wedding in the Elkhart area, this makes a great sunset spot to stop and capture you and your wedding party!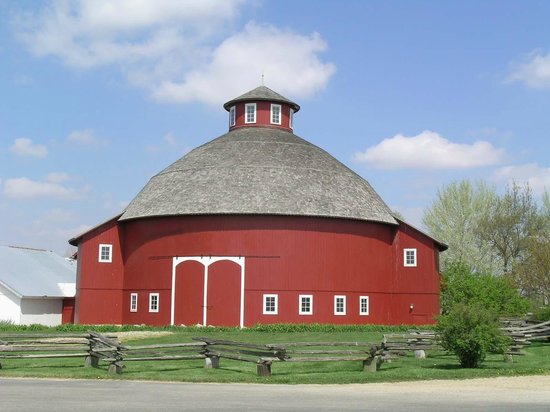 Round Barn Theater (Nappanee)
This place is amazing! Beautiful barns of all colors, lots of stone walls, walkways, horse & buggies, just amazing scenes around every corner. The main attraction is obviously the amazing round barn itself, but there is so much more. Within a mile is also downtown Nappanee where you're able to picture life as it was 60 years ago and capture some amazing & beautiful imagery.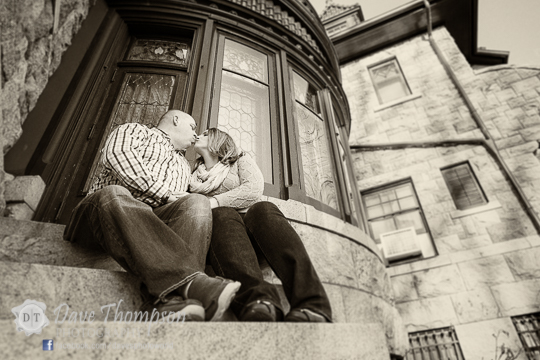 Oliver Mansion-Copshaholm (South Bend)
This is a magnificent mansion located near downtown South Bend. The lush gardens, brick walkways, magnificent stone porches and ornate woodwork make a super backdrop for photos. I've shot numerous engagements and weddings, both inside and outside here. This is at the top of the list for venues in northern Indiana for sure.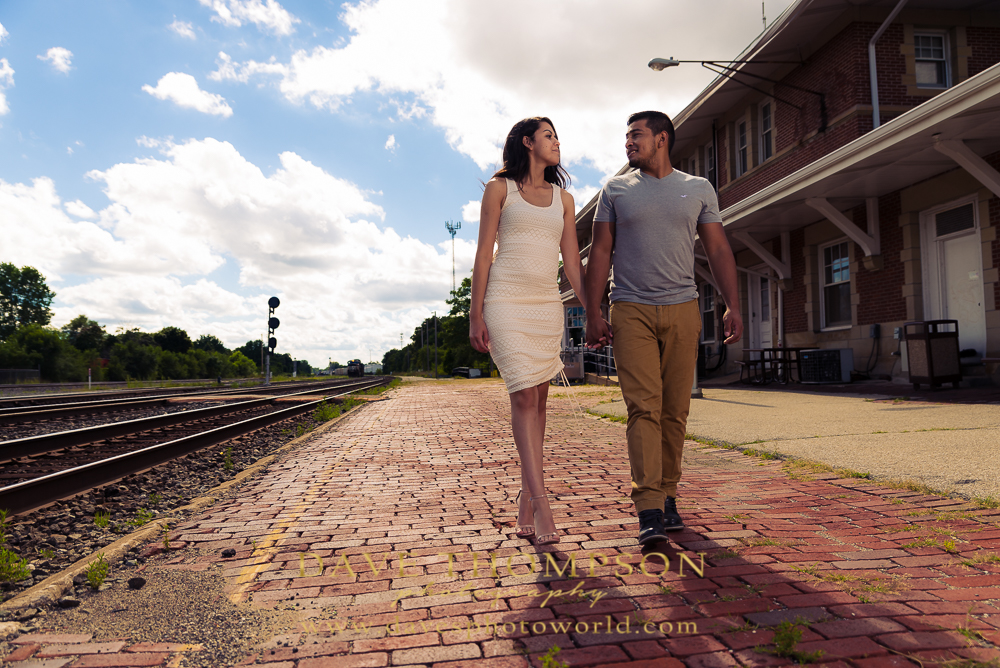 Amtrak Train Station (Elkhart)
There is an awesome brick train station in downtown Elkhart that is really fascinating to shoot an engagement or couples session at. Parked there is also an amazing old train that you can climb into. This is a perfect venue to do a stylized shoot - 1920's suit and suspenders for him and a long formal dress for her! Dapper couple departing on a freight train!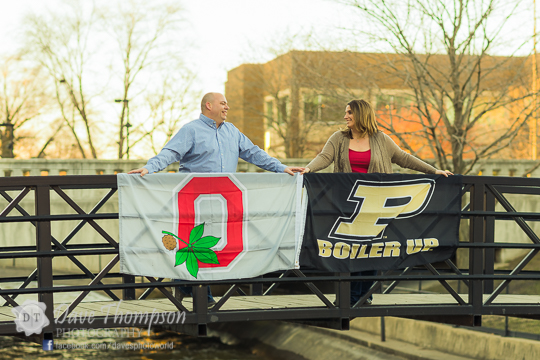 East Race Waterway (South Bend)
If you're looking for an urban/contemporary feel for you engagement session, this is a fantastic spot. I'll often pair this location with a downtown South Bend shoot, as it adds variety to the photo shoot. Some of the attractive elements here include steel bridges, sitting benches, whitewater rapids, long concrete pathways and brick buildings to add interest.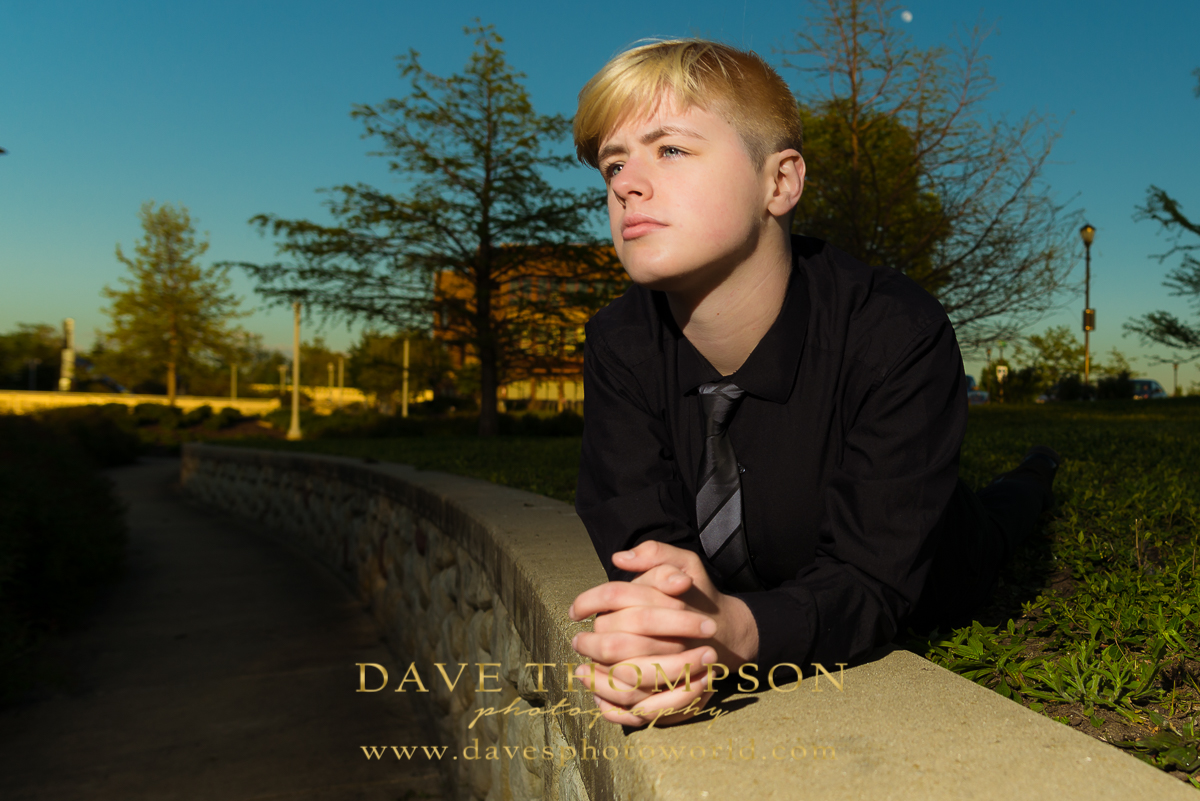 This is an really awesome location for family photos, senior pictures or photography in general. The park offers plenty of scenery to incorporate into photos. The bright red foot bridge is really cool as is the St Joseph river, Beutter Park and the River Walkway. There's plenty of architecture, neat old brick buildings and water features to incorporate into photos!
Notre Dame Campus - South Bend, IN
How can you go wrong on the campus of the great Notre Dame University? You can't! There are so many historic attractions, amazing doorways and arches, stonework, beautiful landscaping and just generally awesome scenery to work with. The grotto is amazing as is the long walkways too!
Kate's Garden Park - Mishawaka, IN
A spectacularly beautiful garden park near downtown Mishawaka that's perfect for photos before a wedding, an engagement session or a family portrait session. The park has plenty of interesting backdrops including a gazebo, floral gardens, pathways, greenery and other beautiful scenery. Easy to get to and usually not a lot of people.
Shanklin Park - Goshen, IN
Close to downtown Goshen, this is a great little location for an engagement shoot. There's a very cool arched steel bridge, a nice lake, a few benches and various trails to explore.
Kercher's Apple Orchard - Goshen, IN
Quaint and romantic, this apple orchard makes a great setting for an engagement session. Walk down the rows and pick out an apple for your partner! The barns are awesome too!
Old Bag Factory - Goshen, IN
Awesome rustic feel with lots of brick and vintage hardware. Large doors, cobble pathways and early century feel make this a perfect spot for engagement photos!
High Dive Park - Elkhart, IN
Island Park - Elkhart, IN
Ruthmere Mansion - Elkhart, IN
Bonneyville Mill - Elkhart, IN
Rustic barns, streams and open meadows are everywhere in this county park. Lots of different shooting locations are here to explore and it's generally not overcrowded.
Oxbow Park - Dunlap, IN
A super amazing park within close driving for anyone around the Elkhart, Mishawaka & Goshen areas. There are a lot of trails, woods, open fields of tall grass and it's all for a very reasonable admittance fee. There's an amazing 1 lane covered bridge and lots of scenic backdrops of awesome fall colors in mid to late October.
Coppes Commons - Nappanee, IN
Set in the quaint town of Nappanee, Indiana, this is a charming old cabinet making factory building from the early 20th century. The upstairs venue room decorates beautifully for weddings and receptions, with lots of beautiful woodwork, tall ceilings, gorgeous wide plank flooring and tons of natural light. The outside boasts large expanses of awesome brick walls with vintage signs which make great photo opportunities.
The Brick - South Bend, IN
A really neat place for a reception located along the river in South Bend. The vibe is modern and classy with tall ceiling, beautiful windows and plenty of space to host a wedding reception.
The Res - Mishawaka, IN
A really interesting location with lots of spectacular scenery. In the winter, the snow makes an awesome backdrop for engagement photos.
Blue Chip Casino - Michigan City, IN
Overall this can be an amazing location for an engagement or couples portrait shoot. It's best to plan the shoot for a weeknight evening when the crowds are minimal. The lighting, the furniture and the gambling make for an upscale and romantic setting. Sunset adds a really amazing feel to the scene and adds romance to the Bluechip!
Fernwood Botanical Gardens - Niles, MI
This is a very beautiful setting, particularly in the spring and summer. There are various gardens to choose from that give all different settings. The flowers are very beautiful most parts of the year and provide stunning backdrops.
Silver Beach County Park - St. Joseph, MI
Beautiful sunsets and wonderful lighthouses inspire romantic engagement photos here. Weddings are really beautiful as well. There are many other beaches up and down the east coast of Lake Michigan as well. I enjoy working with couples at beach locations, as the setting itself invokes romantic moods and foster genuine interactions, which leads to genuine photos!
Wine & Grapes! - Michigan
Spend a romantic day touring the grape vines and tasting some wine with your partner! Let's make beautiful memories and photographs as you walk and talk among one of the beautiful grape farms in lower Michigan - what a romantic setting!