High school graduation is such a wonderful time in a teens life - we'll help you re-live the memories forever through photography.
Senior Photo Session
Let's get creative with your senior photos! We'll tailor your session to match your interests - whether you're into motocross, softball or fishing, let us capture your personality! We'll find a location outdoors, indoors or at our studio and work with you to plan a 1-2 hour session. We'll help with wardrobe choices and posing to make sure you have beautiful photos!
Before the Session
Important - plan your clothing choices early! Scroll down to see detailed tips to help you!

Bring your cap & gown and any other meaningful items in you life - pets, sports gear, instruments, etc... - we'll incorporate them into the shoot to best capture what's important in your life!

Plan on spending 1 to 2 hours total for your photo shoot.

We'll guide you through getting comfortable in front of the camera, help you pose to look your best and shoot as many different poses and scenes as we can during the session to give you variety and choices.

For outdoor sessions we'll usually schedule the shoot about 2 hours before sunset to provide the most appealing lighting for your photos.
After the Session
Within approx. 2 weeks your images will be processed to make them look their absolute best!

You'll receive a link to a personal gallery online - you can download, share or print all of your photos as you'd like!

Our clients are delivered about 10-20 finished photos from a typical session.
Price $300
Tips for a Great Photo Session
The single biggest impact on how your photos will turn out is clothing choice.
Solid colors or very light patterns are best. Avoid stripes, polka-dots, flowers, bold patterns and team logos - they distract from your lovely faces!

Muted tones or pastels look great - avoid bold colors such as bright yellow, red or orange. Good colors are browns, dark tans, pastel blues or solid white or black shirts w/ jeans.

If you're getting your haircut, try to have it cut at least 1-2 weeks before the session - hair tends to look better after a little time.
Solid colors or light patterns are perfect for senior photos.
Bright, bold colors and busy patterns aren't the best choices.
Products to Show Off Your Senior!
We offer a variety of ways for you to showoff all your great photos of your special one! All products are beautifully custom designed for you to bring your memories to life!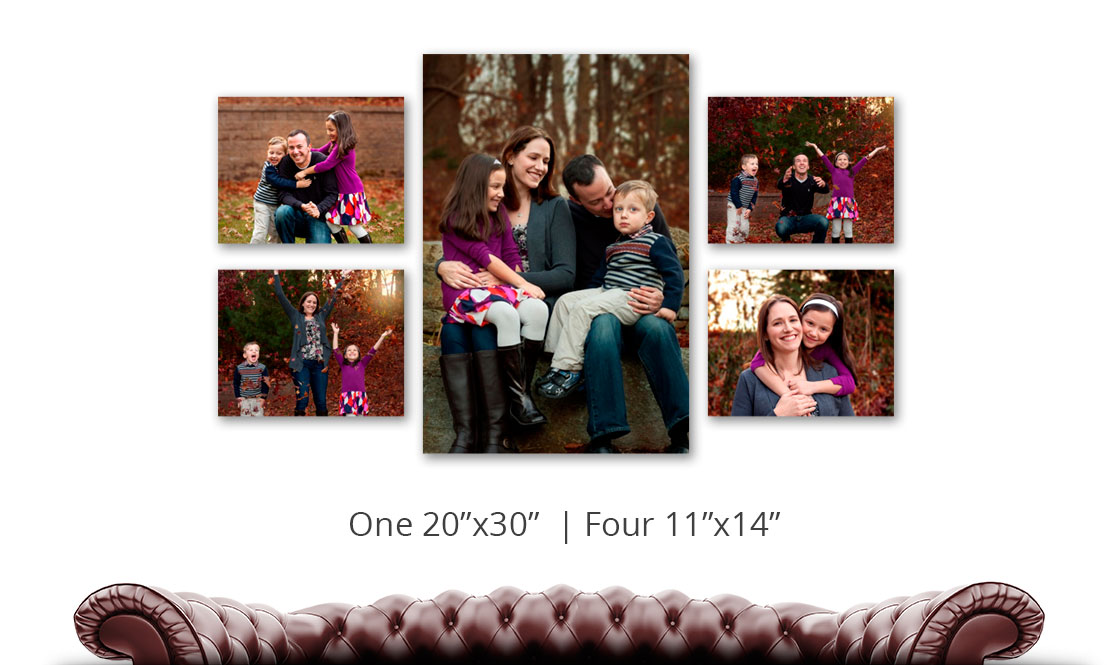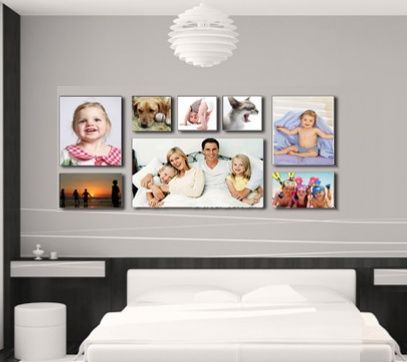 Our beautiful canvas gallery wraps are works of art!
We'll come to your house and show you exactly how they'll look in your living room or other space. Our projection software will show you a real sized image projected onto your actual wall!
Let us design a grouping to fill your space and we'll come over and hang it for you too - all you have to do is sit back and enjoy your memories!
Example Pricing
6 x 6..............$110

8 x 10............$113

11 x 14............$146

16 x 20.........$243

24 x 36.........$368

36 x 36.........$437
Framing your photos is such a wonderful way to make them stand out!
With tons of choices for frame and mat designs, you're sure to fall in love. We make it easy for you....you'll receive suggestions for wall placement and grouping or stand up options for you tables! We'll even come hang them for you, so that all you have to do is sit back and enjoy your family!
Example Pricing
5 x 7................$57 to $72

8 x 10.............$95 to $119

11 x 14.............$168 to $207

16 x 20..........$255 to $315

20 x 20.........$313 to $374

20 x 24.........$338 to $404
Let us create a unique album just for you! Your family memories are captured in this gorgeous album that's perfect for a coffee table centerpiece of for a gift to others!
Includes a cloth storage sleeve and 22 pages of photographs.
Price $300
Loose prints are available for order. These are great for framing and hanging or showing off on your desk! They are printed on gorgeous lustre finish Kodak paper that is long lasting and guaranteed to make your memories come to life! Prints may also be ordered that are mounted on foam board for easy framing.
Example Pricing
8 Wallets.........$22

5 x 7.....................$21

8 x 10..................$27

11 x 14..................$39

16 x 20...............$55