Sometimes you photograph a wedding and end up falling in love with the day, the couple and the families more than you thought you would….this is one of those weddings for us! The weather forecast in Mishawaka on this day called for extremely cold temps and blowing snow (can you actually believe it - snow in South Bend lol)….but there was no stopping this couple and their families from celebrating the amazing coming together of Craig and Rachel!
When Rachel and Craig contacted us looking for a local wedding photographer, we were super excited to get to know them and hear about their story as a couple! After spending a couple hours taking engagement pics for them on the campus of IUSB, it was awesome to learn all about Rachel's upcoming graduation from law school (how cool! We get to photograph a lawyer!), how her and Craig had met in high school and all about their favorite restaurants they like to go to on dates around the northern Indiana area.
We were able to find a beautiful set of windows in the hallways of the Holiday Inn Express Conference Center to photograph memories of Rachel's dress, shoes, invitations and jewelry for her to remember forever!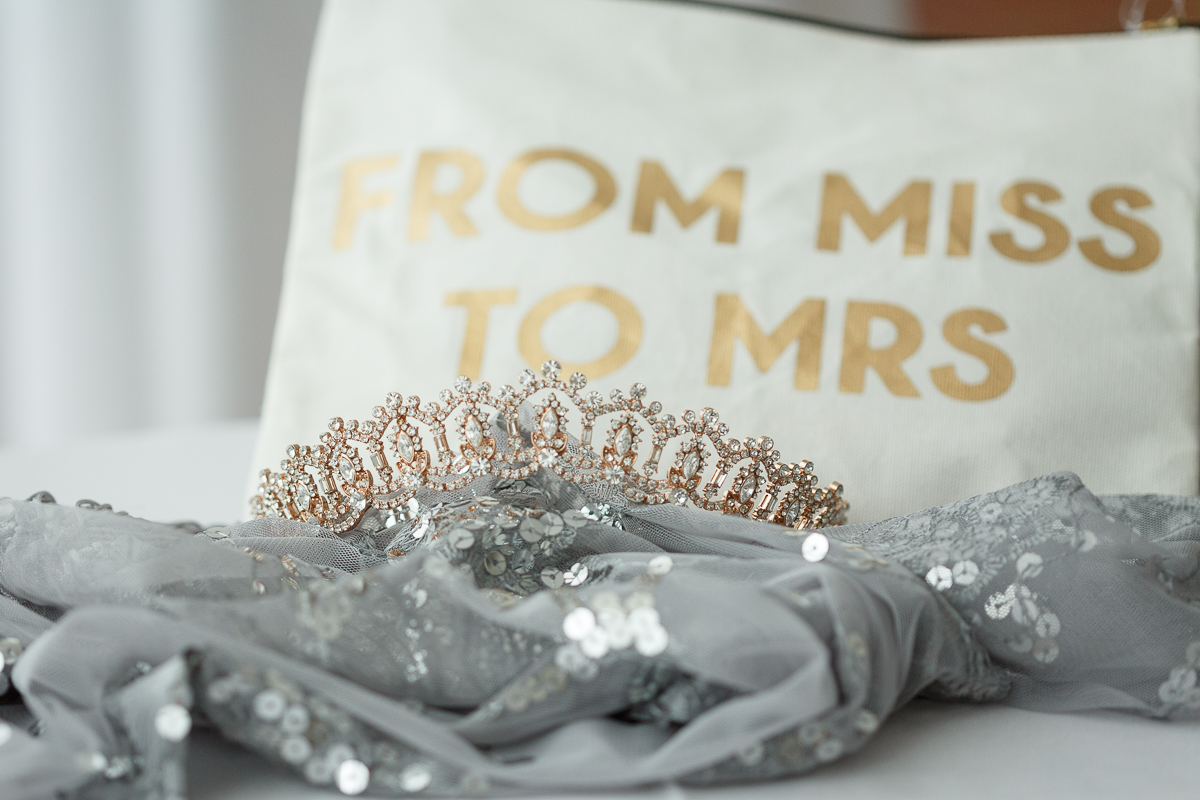 Rachel and her bridesmaids looking gorgeous getting the final touches on her wedding dress and veil just before the ceremony. Mom was there too, what a great memory to have in photos!
The guys were getting ready at Craig's apartment in Mishawaka and I was able to grab a few shots of the activities over there. These guys looked great in their green and black tuxedos!
The first look is always my favorite part of the day. As a photographer, I love being behind the camera watching it happen! These two were clearly meant for each other, just the look on their faces when they saw each other for the first time was perfect! There are a lot of local wedding venues around South Bend, but St. Joseph Conference Center is one of the most beautiful locations for a bride and groom to get married for sure!
What a beautiful ceremony at the Hoiiday Inn Express Conference Center in Mishawka. The flowers in all shades of pink were perfect!
The first dance at the reception was amazing…the connection between these two is contagious! The atmosphere of an Indiana winter wedding is perfect for dancing close with your new wife!